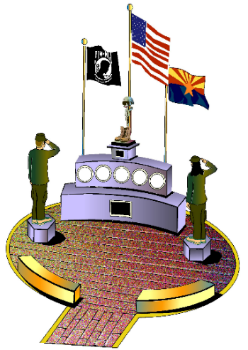 Welcome to the "Saluting Arizona Veterans" Memorial!
While we recogize that cities across Arizona are honoring our military, Saluting Arizona Veterans wanted to create something that we could dedicate to the men and women of served our country, past, present and future.
Over 500,000 Veterans call Arizona home and we, with the support of the Glendales' Hispanic Community wanted to show our appreciation to our brave men and women.
The proposed memorial is in the process of being commissioned by the City of Glendale and with proper approvals, will be located in the Glendale Civic Center Plaza, 5750 W. Glenn Drive, Glendale, AZ.
---
Our Veterans are still serving during Coronavirus!

During this health crisis with the Coronavirus, two of our Naval Veterans have volunteered again to help those restaurants that have been affected. In addition, they help people from the east valley down to Coolidge in locating essential items like water, groceries, hand soap, cleaning supplies as well as (usually empty shelf item) toilet paper. These two special people have chosen to do this without asking for financial help, however, it would be great if people could help them with their printing needs by printing 100-200 copies of their flyers to get the word out.